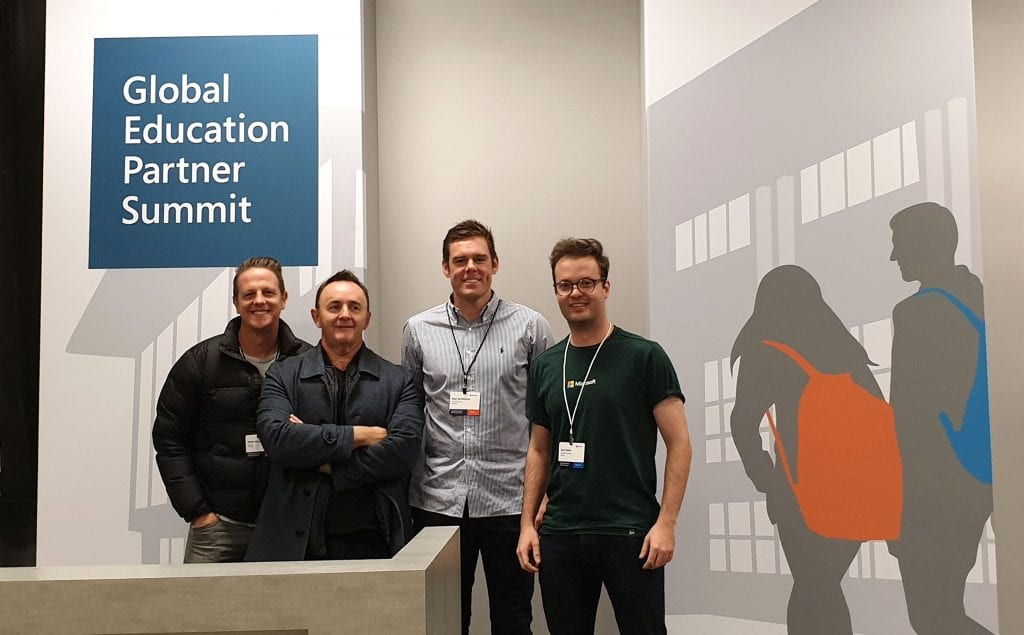 Last week, Antares Solutions and the Cloud Collective were fortunate to join a handful of Australian education partners at the Global Education Partner Summit at Microsoft's Redmond campus in Seattle.
We not only attended the conference but also presented QBot and the UNSW journey to the Microsoft Teams Engineering group, many of the Microsoft Education team and other worldwide partners.
We were amazed by the positive feedback and genuine interest in the presentation about how QBot is changing Higher Education at the University of New South Wales, the work we're doing at other universities and the potential scale globally to other Higher Education providers.
What did we take away from the event? In short, a lot! As a relatively new Education-focussed partner, it is clear to us that Microsoft is investing heavily in Education. Why? Because Microsoft sees Education as the platform for growth into all other industries, through both technical learnings and as new business leaders emerge in the workforce.
This investment is headed by Microsoft Teams and Azure. Microsoft is continuing its investment in their Education tenant that supports a variation of Teams tailored to education requirements. As app builders, the message came through loud and clear that Teams will be at the forefront of the student experience for Microsoft.
We had the pleasure of listening to Brad Smith, Microsoft's President and Chief Legal Officer. He spoke with passion about data rights, privacy and Microsoft's ongoing mission to ensure every person on the planet can not only achieve more, but do it in a trusted way.
Julia White, Corporate Vice President of Azure, also spoke intensely about the improvements both here today and those coming to Azure. It was hard to keep up, but definitely very exciting!
Finally, and importantly, we had the opportunity to connect with many new Microsoft partners. It was both scary and inspiring to hear the work they are doing on the Microsoft platform. One standout for us was the chance to meet with Martin and Andrew from ICS from the United Kingdom. They're working at the forefront of Microsoft AI, and in particular with chatbots.
Two of their initiatives stood out for us. The first was their One-Stop platform that integrates many chatbots in the backend creating a "super bot" for the end-user – allowing the user a one-stop-shop for anything they are looking for.
Their other standout was their vision for the intranet of the future. Replacing AI with a traditional content-heavy homepage. If you remember the ideal of a search-based intranet homepage like Google 5-10 years ago, it's a similar idea, but now AI and bot driven!
For us, meeting likeminded people last week at GEPS validates the work we are doing with customers in Australia, but also shows the distance we still have to go in helping our Education customers achieve more; whether that be a better student experience, personalised learning, better attendance, higher learning outcomes or a more collaborative classroom.
We are heading in the right direction; solutions like QBot are breaking down traditional barriers, and we're working towards being a part of the change we want to see!