By John Filippis, Strategic Engagement Manager, Quorum
French History Lesson
Humans are interesting creatures, in that we become easily accustomed to our world of habit. We subconsciously expect that the continuity of life will be consistent from one moment to the next, that our current situation will not or could not possibly change. This is, in reality, a delusional position, for the only true constant in life is change. One of my favourite examples of this type of misapprehension comes from history, the story of the fabled Marie Antoinette. She was born an archduchess of Austria and was the penultimate child and youngest daughter of Empress Maria Theresa and Emperor Francis I. She became dauphine of France in May 1770 at age 14 upon her marriage to Louis-Auguste, heir apparent to the French throne. In 1774, her husband ascended the throne as Louis XVI and she became queen. During her reign, Marie Antoinette became infamous for her lavish spending on fashion, jewellery, excessive gambling, and her private, neoclassical-styled retreat "Petit Trianon".
As Marie Antoinette frolicked in her bubble of luxury, frivolity, and privilege, France was starving as the winds of revolution started to take a white-knuckled grip. The unstoppable machinery that brings on step function changes in our understanding of what is normal, had started its engine. The only world that Marie Antoinette had ever known was about to disappear and everyone else's life would be changed forever.
All of us have in some form or another been living the Marie Antoinette life. We have been accustomed to a world that had granted us freedom, security, and infinite choice. This infinite world of freedom that we created was one that we expected would always be there, just like the beautiful gardens of Versailles were for Marie Antoinette.
How COVID-19 Has Given us a Lesson in Change
So why the history lesson today ? Because in 2020 we have had a French Revolution-like moment of our own. All across the world the uprising of COVID-19 stormed into our lives with a relentless savagery that mirrored the angry revolutionaries who stormed the Bastille Saint Antoine in July 1789. The world's focus changed overnight and in what seemed like a heartbeat, we all found ourselves deeply entrenched in a very serious global pandemic.
It is amongst this pandemically-induced backdrop that I reflect on the events of this week's Microsoft Inspire 2020. This was the first time in its history that Microsoft Inspire was conducted "virtually" and the experience was most certainly different for Microsoft and the partner community. But despite the nature of the delivery, the content was as rich as ever. Main Corenote segments from the leadership team (Satya Nadella, Gavriella Schuster and Judson Althoff) all talked to COVID-19. Microsoft and its platforms, in conjunction with its extensive partner networks, have been able to build some amazing solutions that would benefit society immeasurably.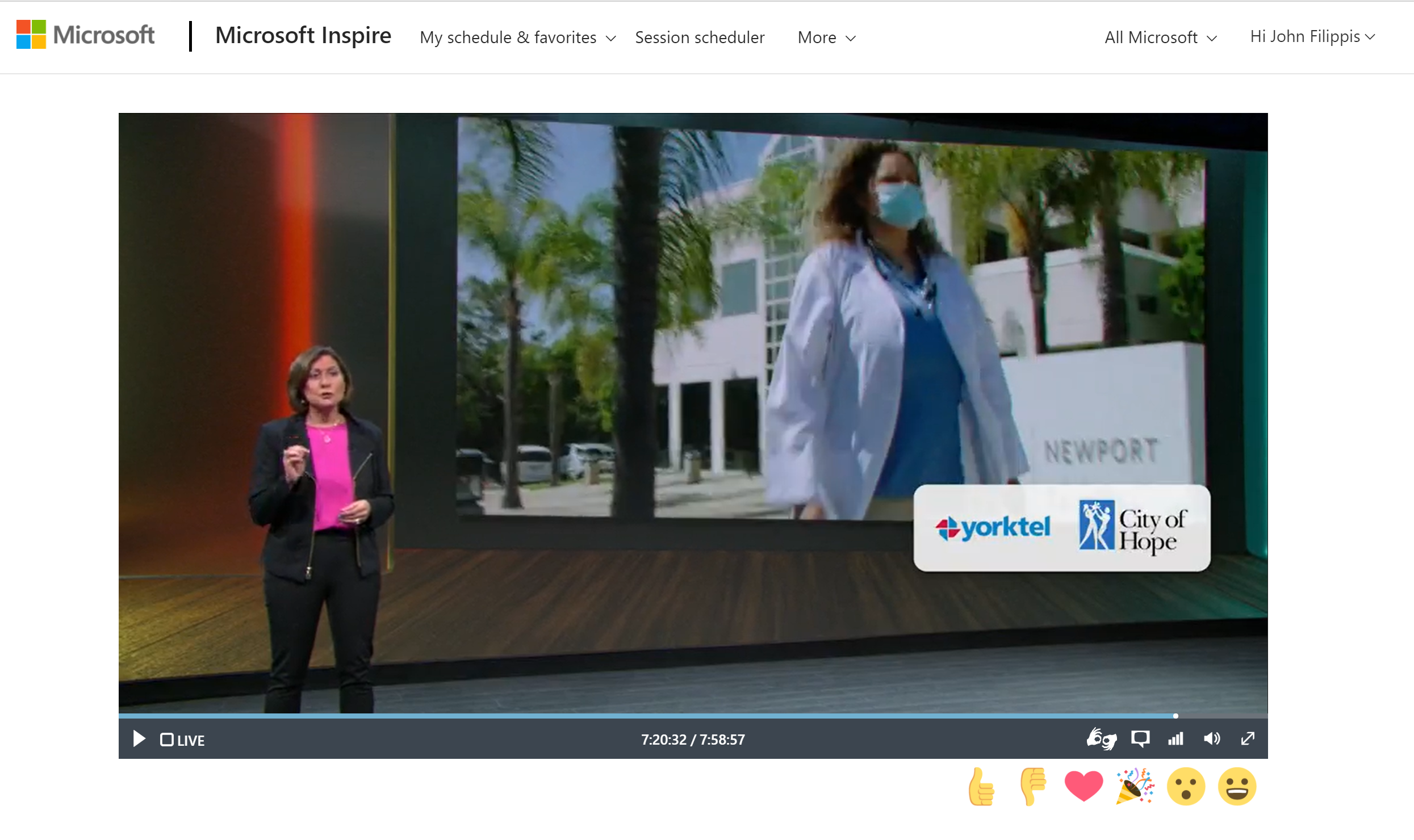 Outside the Box Thinking in Response to COVID-19
An example mentioned was how Rolls Royce, Avanade/Accenture, and Microsoft were working together to build COVID-19 ventilator solutions. This cross-company cooperation allowed ventilators to be produced and deployed to people everywhere in a dramatically reduced timescale using Microsoft 365, Dynamics 365, and HoloLens.
Similarly, T-Mobile had utilised the Microsoft PowerApps platform to create an application that allowed it to manage its staff across all of its stores during the peak of the pandemic. This allowed them to see what staff they had available at any one time and allow them to be redirect it to the stores that needed them most.
The COVID-19 situation has forced us all to work in ways that we previously would not have imagined. One creative way of redeploying technology to another purpose was showcased by Ignite Brewery in conjunction with their partner, Insight. Ignite Brewery wanted to ensure that its work environments and its experience stores were safe for both employees and customers. In order to achieve this, they redeployed technology used for checking food temperatures to checking human temperatures! They implemented a thermal sensing camera and the corresponding Microsoft cloud-based apps to scan and test every person entering the Ignite Brewery facility for body temperature. If anyone's body temperature was outside the tolerance band, they would be immediately alerted, and that person could then be managed safely before there was any further contact with others.
Technical Improvements That Stood Out
These and many other stories showcased how organisations everywhere are meeting (and thriving) in the face of the challenges that they now face. In addition to the great stories I've already mentioned, there were countless mentions across a number of sessions on the new and exciting technical virtues all across the Microsoft platform. Some points that resonated with me regarding technical improvements in the platforms were:
Together Mode in Microsoft Teams: which uses AI to digitally place participants in a shared background:
Microsoft Dataflex: brings together the application development capabilities of Power Apps with relational databases, so one can create an intelligent app within Teams.
Endpoint Data Loss Prevention in Microsoft 365: which helps organizations identify and protect sensitive information across all endpoints; and it's built into the new Edge browser.
Azure Stack HCI can now be delivered as software as a native Azure service -providing an easy way to manage your clusters and VMs from your Azure portal, and seamlessly move between local or cloud management tools.
Power BI personal app for Teams: the app, which will be available in August, will give users "a single place for all their data visualizations and a place to find more data from across their organization," Microsoft said.
Power Apps and Power Virtual Agent chatbots will be enabled to create, manage, and use their apps/bots inside of Microsoft Teams through native app experiences.
Insider Risk Management and Communication Compliance features for enhanced detection and remediation in Microsoft 365. With the Insider Risk Management feature, security analysts will receive improved signals telemetry from end-user activities—such as movement of files to a USB drive or shared over the network); native signals from Teams/Exchange/Sharepoint; and endpoint security signals via Microsoft Defender ATP.
Leadership and Non-Technical Sessions
In addition to the technical highlights there were also some other non-technical sessions I enjoyed. One was "Speaking Truth to Power" with Luvvie Ajayi Jones who highlights how "truth" is power and how we should support "truth tellers" in order to create a world where the strength of diverse points of view are there for everyone's benefit. Luvvie was as colourful in person as her blog language might suggest, where she regularly extolls the virtues of rocking the boat and saying the truth in a politically-correct world.
I also enjoyed the session called "Your best self: How authenticity creates stronger leaders" with Bozoma "Boz" Saint John, the CMO for Netflix, who spoke to how authenticity makes oneself better and in turn delivers the necessary qualities of character to be a great leader.
Authenticity and Corporate Responsibility
Leaving the obvious technical announcements aside I think that this year's Inspire will be remembered as one where Microsoft and its partner network adopted a deeper sense of authenticity, corporate responsibility, and a heightened awareness of the importance of a healthy global community. I say this because of the language employed by Satya Nadella in his response to a question asked by Gavriella Schuster. The question was whether countries are going to be intra-focused on national concerns or whether they would still see globalisation as having an important role to play post-COVID-19. He responded by saying that the key lesson that we had learned from the first flush of globalisation was that it cannot only be for the benefit of a few. If we are to be truly successful, we need to ensure that everyone thrives by producing "local community surplus first".
That was a salient point (and one that is lost on many a CEO and organisations' charters) and true to the core fact that authenticity makes great leaders (as Bozoma St John had said in her session). Satya Nadella believes in authentic and he fully understands that by using the lever of technology, we can indeed sway the pendulum towards the goal of benefitting all the citizens of the global community. Because when we make the world a better place for others, we invariably improve our own situation as well. The late and very great Christopher Hitchens summed this point up beautifully in one of his eloquently penned essays, when he said that "internationalism is the greatest form of patriotism".
Back to the History Lesson
In its own way, Microsoft (with a lot of help from its talented partner community) is doing what it can to empower people everywhere to overcome the adversities of what we have all experienced this year with COVID-19. In the same way that the French Revolution turned France upside down and no one knew what was to come (least of all Marie Antoinette), so too we stare into a murky crystal ball.
For Marie Antoinette, her fate was sealed when the French Revolution put her on trial and found her guilty of high treason in 1793. We, on the other hand (from what I have seen at this year's Inspire), will not succumb to the COVID-19 revolution. The stories I heard from the sessions only reinforced to me that Microsoft and its partners are working tirelessly to solve problems with technology in ways that we had never imagined pre-COVID-19.
---
We, on the other hand, will not succumb to COVID-19.
---
So where do we leave the lovely Marie Antoinette? Well, it was purported that when Marie Antoinette was told that the starving French people could not even eat bread due to their poverty she infamously remarked "let them eat cake!"
I think in this instance, the solipsistic Marie Antoinette was most definitely wrong. Her insular upbringing, self-serving views, and indecorous indulgences prevented her from seeing how she could have helped her people, her nation, and her position in history as a great queen.
Fast forward to 2020 and COVID-19 has brought upon the world a health crisis that affected all echelons of society from the privileged to the poor. It has left in its wake a world that, despite the challenges it has faced, is now closer towards global solidarity than ever before. I side with Satya Nadella's view, in that we are moving away from being intra-focused (like Marie Antoinette). Microsoft Inspire 2020 has shown, that despite our common challenges, we possess the technology and the talent to overcome any crisis, build a cake, share it with the world, and… eat it too!
Until next year…